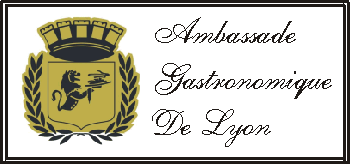 Lyon's Fine Foods Embassy, created in 1910,
is situated in the West of Lyon (France).

Products defined and produced by local craftsmen,
in strict accordance with local Lyon traditions.

A real treat in the local tradition...
Our range of traditional terrines :


LYON TERRINE IN THE
OLD-FASHIONED WAY


TERRINE IN BEAUJOLAIS




ROEDEER TERRINE PREPARED WITH WALNUTS FROM THE DAUPHINE AND CHARTREUSE REGIONS


These local recipes are mentioned in a major work on the cultural activities of the Lyon area,
"Capital of the Gauls and the Gastronomical Heritage".
Traditional Lyon sausage, poultry liver terrine, the Gratin-Dauphinois cream-topped potato dish,
and Quenelles are dishes served daily and enjoyed in the city's typical restaurants,
known as "Bouchons lyonnais".
Our selection of pre-prepared meals :


LYONS SAUSAGE COOKED
IN A BEAUJOLAIS WINE SAUCE




POULTRY LIVER SLICE
AND LYON QUENELLES




MINI QUENELLES OF LYON
IN TOMATO SAUCE





A CREAM-TOPPED,
FLAVOURED POTATO DISH




LYON ANDOUILLETTE AND POTATOES IN WHITE BEAUJOLAIS WINE SAUCE
AND TWO MUSTARDS



DIOTS SAVOYARD
MINI-SAUSAGES AND
CROZETS PASTA IN A
SAVOY WINE SAUCE

Presentation suggestion for poultry liver slice
served with Lyon's traditional quenelles
Our presentation hamper "Discover Lyon's Traditions"
Information and contacts :

Email :

Telephone :

Mail :

Tél.: + 33 478 453 487



Fax.: + 33 478 169 726

A.G.D.L.
ZI - 30 rue Chapitre

F-69216 BRINDAS

FRANCE

Copyright FG - © 2002 - All rights reserved -
Pictures : Guy RENAUX